Naturally occurring asbestos factsheet
Naturally occurring asbestos factsheet
General guidance on managing the risks associated with naturally occurring asbestos.
Asbestos is found as a naturally occurring mineral in many areas of NSW and may occur in veins within rock formations.
Naturally occurring asbestos is generally found when building roads, working on construction sites and undertaking excavation activities.
Clauses 431 – 434 of the WHS Regulation provides that the person with management or control of a workplace must manage the risks associated with naturally occurring asbestos at the workplace.
Any naturally occurring asbestos identified, or assumed to be present at a workplace, must be included in an asbestos management plan.
An asbestos management plan should be prepared by the person with management or control of the workplace.
When preparing an asbestos management plan, consider:
isolating the workplace, or part of the workplace where naturally occurring asbestos has been identified or assumed until controls are in place
redirecting excavation away from the naturally occurring asbestos, if possible
using sealed excavation or mining equipment – eg air-conditioned cabins with filtered air (HEPA Filter)
ensuring a competent person maintains regular surveillance of the naturally occurring asbestos to ensure minimal disturbance
conducting air monitoring while working in the naturally occurring asbestos area
developing procedures for the safe disposal of asbestos waste
educating workers in safe work practices including decontamination and wash down procedures for vehicles leaving the naturally occurring asbestos area.
The asbestos management plan must:
identify the location of the naturally occurring asbestos
include decisions, and reasons for decisions, about the management of asbestos at the workplace for example safe work procedures and control measures
outline procedures for incidents and emergencies involving asbestos, including who is responsible
be maintained with up-to-date information
be reviewed at least every five years or when any changes are made at the workplace
be accessible to any worker or the person conducting a business or undertaking (PCBU) who has carried out or intends to carry out work at the workplace and any health and safety representatives who represent workers at the workplace
provide information, consultation and training responsibilities to workers carrying out work involving asbestos.
You do not need a licence to work with naturally occurring asbestos, however all workers must be trained in the hazards and risks associated with working where naturally occurring asbestos is found. The training must include safe work practices and use of personal protective equipment.
For ongoing management of naturally occurring asbestos, implement an air monitoring program to assess asbestos exposure levels during work carried out in naturally occurring asbestos areas.
Airborne asbestos must be eliminated or, if that is not reasonably practicable, exposure must be minimised to below the occupational exposure level by:
providing workers with information and training
using HEPA filters in all work vehicles
using personal protective equipment
wetting surfaces, to reduce the dust levels
suppressing, containing and extracting dust
using wet drilling or other approved in-hole dust suppression
using wash down facilities, to prevent the spread of contamination.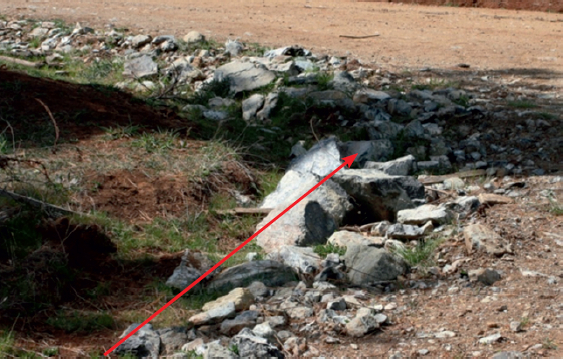 Back to top