Radiofrequency (RF) Radiation
Information for workers and employers about working safely around radiofrequency electromagnetic radiation.
Radiofrequency (RF) Electromagnetic Radiation (EMR) is non-ionising radiation. RF is found at the long wavelength end of the Electromagnetic spectrum and may be produced by both natural sources, for example the sun, and artificial sources, for example communications, wiring and appliances. RF EMR ranges between 3 kiloherts (kHz) to 300 gigahertz (GHz).
Sources of artificial RF EMR
Satellite communications
Radar
Industrial heaters and sealers
Medical equipment
Radio/Television broadcasting
Mobile and transmitting devices
Mobile base stations
Mobile phones
Wireless networks (WiFi) including modems, PCs, tablets etc
Emergency Services radios (Police, Fire, Ambulance)
Microwave ovens
Burglar alarms
Remote controls
Smart meters
Baby monitors
Must do's
RF Workers
Train your workers
Workers employed in telecommunications and similar higher risk industries must be provided with specialised training and resources including safe work practices and risk controls to enable them to carry out their tasks when working on and around high-powered equipment.
PCBU's must ensure that their workers follow their safety procedures and must review the Radio Frequency National Site Archive (RFNSA) website before working on or near an RF transmitter or antenna. It is important to note that the RFNSA does not contain all sources of EME.
Prior to carrying out work, at or close to base stations, buildings or other facilities with radio transmitting antennas, managers and workers must first gather safety information about the location at which they are going to be carrying out work including, verifying that the transmitter is turned off while they are in the exclusion zone.
To assist in identifying site owners and information, the Australian Mobile Telecommunications Association (AMTA) developed two practical resources for managers and workers:
RadioWorkSafe which provides the basic safety steps for working at known RF transmitting sources and includes resources to assist workers understand who to contact, where they can access, training, safety videos and information resources, and
the Radiofrequency National Site Archive (RFNSA) database and mobile version, mobilesitesafety App, (Apple and Android) which provides free access to maps showing the location, EME reports, carrier details of existing or proposed new mobile telecommunications sites which are near a worksite or address entered.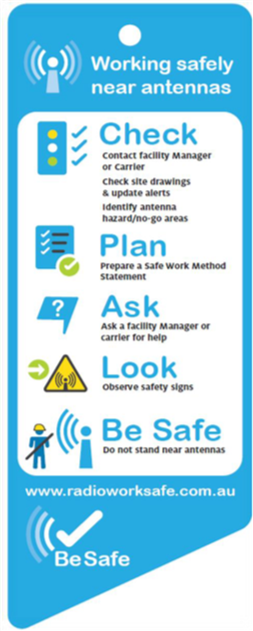 RadioWorkSafe features:
basic safety steps
a SafeWork NSW checklist
training videos
fact sheets
information resources
site contacts
safety bookmark.
Alternatively, if the transmitter licensee, is not shown on the RFNSA or MobileSiteSafety App, the Australian Communications and Media Authority (ACMA) register of Radio licences, can assist in identifying the correct license holder so contact may be made.
Other workers and the general public
Workers who are not in the communications industry but who work near an RF transmitter must be provided with training and work procedures that ensure their safety. RF transmitter devices include a transmission antenna located on the roof of a multistorey building or the building constructed next to it.
The most suitable way to identify any RF transmitters or RF EME sources on a building is to consult with the building manager or owner before starting the task. This will also assist you in meeting your duty to consult with other duty holders in a workplace. If an antenna cannot be identified it must be considered as live and work must not be undertaken near it until its RF Hazard boundaries are known.
Industries or roles who may be at risk include, but are not limited to:
facility managers
painters
electricians
construction/builder
maintenance personnel (for example, air conditioning, window cleaning, rigging)
emergency services (Police/Fire rescue).
The harms
Risks of working near RF sources
Workers in the broadcasting, transport and communications industries, who work near RF transmitting antennas and radar systems may be exposed to higher levels of RF EMR if they do not implement or carry out appropriate safety measures and controls.
It is recommended that any worker who regular works near RF sources should be equipped with an RF Meter to monitor their individual level of exposure to RF radiation.
Adverse health effects from exposure to high levels of RF EME include increased body temperature and heating of biological tissue, causing cellular damage.
As many transmission antennas are located on the top of buildings the additional associated risk with working near sources of RF EMR is falls from working at heights.
When working with radiocommunications and mobile transmitters, thorough safety standards and safe work practices must be put into place to ensure EMR exposures are eliminated where reasonably practicable.
Tools and publications
Technical help and resources
Codes of Practice and Guidance
For more information about the risk management process, see Code of Practice for How to Manage Work Health and Safety Risks
For more information on working at heights and managing the risk of falls, see Code of Practice for Managing the Risk of Falls at Workplaces
SafeWork NSW Guidance & Resources
Legal obligations
Work Health and Safety Act 2011
Back to top