Falling objects
There are many objects in the workplace – equipment, materials, tools and debris – that can fall onto someone and cause serious injury or even death.
Over the past four years more than 15,500 workers were injured by falling objects in NSW workplaces. Seventeen died and more than 200 are now permanently disabled.
This two-minute video highlights the dangers of falling objects.
Must do's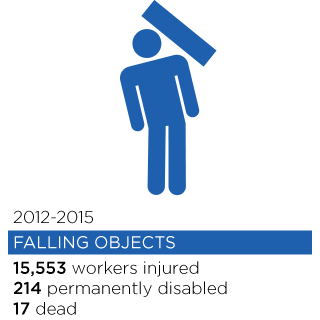 There are specific laws about preventing falling objects from hurting someone in the workplace. Here we summarise those laws and give you some practical tips.
If an object is likely to hurt someone if it falls on them, you have to take steps to stop that from happening. You must manage the risks.
Think about your workplace and whether there are any risks of falling objects.
Firstly, where you can, put something in place to stop the object from falling. If objects aren't falling, they can't hurt people.
You can prevent falling objects by installing a secure barrier, screening nets or catch platforms.
Secondly, if you can't prevent an object from falling, stop it free-falling. Develop a safe system of raising and lowering the object.
Thirdly, where you can't prevent an object from free-falling, make sure it doesn't hurt someone.
You can do this by:
establishing exclusion zones
providing overhead protection on mobile plant
If there are risks of falling objects, wearing a safety hard hat is imperative.
More information
For the specific laws about preventing objects from falling in the workplace, see clauses 54–55 of the Work Health and Safety Regulation 2017.
For the specific laws about managing safety, see clauses 32-38 of the Work Health and Safety Regulation 2017.
There are also general work health and safety laws that will apply to you in any situation, including with regard to falling objects.
For more practical information about how to prevent objects falling when securing or moving a load, working at heights or doing demolition work, see Safe Work Australia's falling objects fact sheet.
For general information about managing risks, see the code of practice on how to manage work health and safety risks. It includes a sample risk register suitable for any workplace, and some interesting case studies.
Back to top