Worker crushed between punt and piles
Worker crushed between punt and piles (3 July 2020)
A worker was crushed between a punt and piles at a marine construction site at King Street Wharf, Sydney.
While measuring the piles, the worker accidentally knocked the punt controls, propelling it forward, crushing him between the piles and the punt, before he fell into the water. He suffered broken ribs, a broken collar bone and a punctured lung.
NSW Water Police and Australian Maritime Safety Authority also responded to the incident.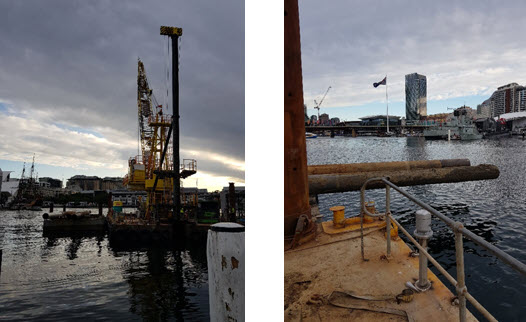 Site of incident
Safety information
Implement 'reasonably practicable' control measures to manage the risks associated with working on water.
You must:
perform the task from land, where practical
make sure operator controls are properly located or guarded to prevent accidental activation
consider the conditions, such as weather and swell, and choose a safer location if necessary
make sure there is a safe system of work for doing the task on water, and prepare a safe work method statement (SWMS) if the task is considered high risk construction work
make sure workers are trained in the correct procedures/SWMS
make sure there are enough workers to do the task safely, such as operating the vessel, acting as spotter when visibility is poor, and helping with emergency rescues
make sure all plant, equipment, e-stops and lanyards are used and are functioning as per manufacturer's specifications
manage the risk of falling overboard - use guardrails, harnesses, safety lines and life-jackets.
More information
Back to top