Forklift safety fact sheet
Forklift safety fact sheet
Operators must have a high risk work licence
No lifting of workers on the forklift load arms ore on pallets
Workers can only be lifted with a forklift truck in an approved Work Box
Forklift driver's seat
Must be replaced when it is damaged.
Seat belt must be worn at, ALL times.
Consider fitting an interlock switch to the seat belt to prevent operation of the forklift when the seat belt is not worn.
Parking the forklift
Park on level ground
lower the load arms
turn off the forklift
apply the hand brake
remove the key
Pressure relief valve
The pressure relief valve must be located at the 12 o'clock position at all times.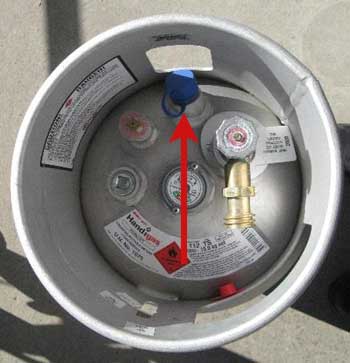 Gas cylinder mounting bracket
The bracket should be checked on a regular basis to ensure that it is adequately securing the cylinder in its location.
Forklift attachments
The following information is required for attachments such as jibs, workboxes, bale grabs, slippers, drum rotators, bulka bag lifters etc
Name & address of the attachment manufacturer or agent
model or type number
needs to have a serial number (if applicable) load rating for each lifting point or load centre
horizontal and vertical centre of gravity
the weight of the attachment
Forklifts load arms
Do not modify or damage the load arms and do not tow with them.
10 percent wear
The 10 percent wear is determined by measuring the vertical thickness of the load arm and then the horizontal thickness heel of the load arm. The horizontal thickness is not to exceed 10% less than the vertical thickness. The one shown is 30 percent
Pre-operation checks
Forklift safety checks are to be done at the start of each day
Warning items
horn
flashing light
reversing beeper
blue light indicators
Load rating plate
Should be readable, list the forklift capacity, list any attachment used and their working load limit (WLL) for attachments used.
Conditional plates
When a forklift is driven on a road it needs to have:
RMS conditional plates
head lights front and brake light and indicator lights
Load guard
the load guard must be maintained in a good condition
extensions could be fitted for two pallet lifts and must support ⅔ of the top load or the top layer of an unwrapped load
Load arms wear
Do not drag the forks heel on the floor. This will cause wear at the heel and the forklift must not exceed 10 percent wear. If they exceed the 10 percent wear
they must be replaced.
Traffic management plan
Physical fences or barriers to separate forklift from pedestrians
exclusion zones
limit forklift speed by fitting speed limiters or using location detector that automatically adjust the forklift's speed to the location
Maintenance
regular maintenance must be carried out to the manufacturers requirements or a competent person
log Book/maintenance records must be kept
Please note: This is a general guide not an extensive list of forklift related items to be checked and maintained regularly.
More information
Back to top