Working with drilling rigs safety alert
This safety alert highlights the hazards associated with drilling rigs and the action required to manage these hazards.
Background
A 35-year-old worker died after his clothing was tangled on the rotating auger of the drilling rig he was operating.
Drilling rigs present many hazards, including:
clothing getting tangled on rotating parts
drilling rigs retracting to the travelling position without warning
leaks from a hydraulic hose projecting liquid under pressure
hot hydraulic hoses inflicting burn injuries.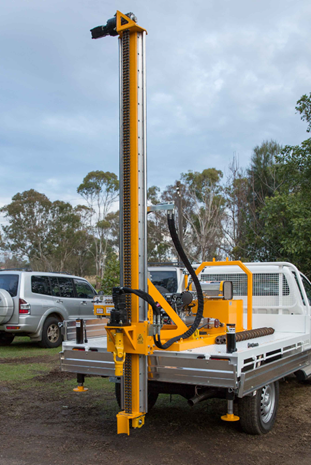 Action required
Where you can, provide interlocked guards that prevent access to the rotating auger.
Use hold-to-run controls (machine stops if you let go of the control lever).
Locate control levers away from the auger, far enough to prevent the operator from reaching the dangerous parts.
Never bypass, weigh or tie down hold-to-run controls to operate the rig.
Mechanically lock the rig in its vertical position as soon as you raise it.
Never operate the rig if another person is near the auger.
Do not wear loose clothing, or loose jewellery.
Cover long hair.
Inspect and maintain the rig in accordance with manufacturer's recommendations.
Further information
Back to top