Unpacking
What is the issue?
Workers are at risk when they are unpacking heavy, awkward and unsecured items.
The systems used to unpack containers may include the manual handling of goods. This can involve heavy lifting, using awkward postures and spending long periods of time doing the same movements. Mobile plant can be used to eliminate the need to complete hazardous manual tasks.
All of these can pose a range of risks to worker including:
people being hit by unrestrained items or falling loads
people being hit by mobile plant such as forklifts
musculoskeletal injuries, such a sprains and strains
slips, trips and falls when manually handling a heavy and awkward object. Reaching those objects is also a risk.
How can I manage this?
The risk of injuries arising from unpacking shipping containers can be eliminated or significantly reduced by:
only removing the restraints of the item to be immediately removed.
bracing items temporarily with suitably rated restraint devices such as props, braces or frames where there is a risk of the items falling
keeping the area around the container clear of obstructions
having an appropriate traffic management plan in place
reducing manual handling by using mechanical loading and unloading systems. This can include:

unloading with powered mechanical aids such as a forklift or electric pallet truck if the load was packed using bulk bags, pallets or slip sheets
packing small items on a pallet to be removed using a pallet truck or a forklift.

If manual unpacking is necessary you should:

train workers in the safest system of work to unload the container
ensure goods are handled between the knee and shoulder height by using pallet jacks, pallet rollers, trolleys or adjustable conveyers.

using PPE such as gloves, hard hats, safety glasses, and hi-visibility clothing.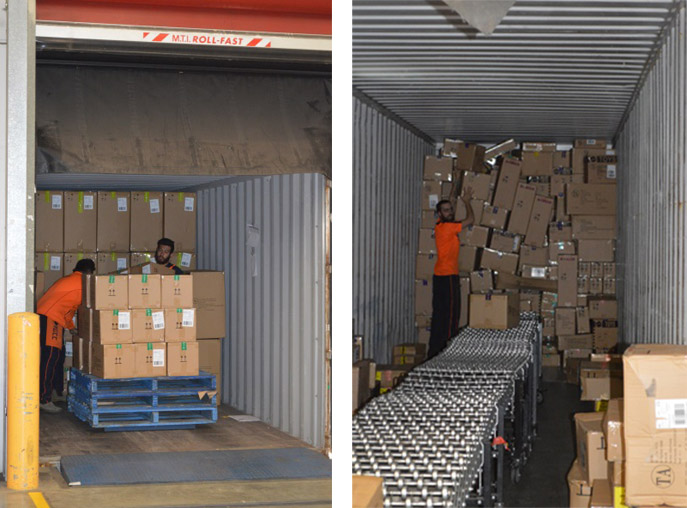 unloading with mobile plant. When doing so, you should:

ensure appropriate traffic management measures are in place to separate people and plant
use a crane or forklift with attachments such as grabs, spikes or slippers
use a tag line to guide loads being lifted using a crane – to keep away from the load
ensure the attachments and slings are inspected and maintained
Ensure the ratings of any plant using attachments, such as fork tyne slippers, are known to avoid overloading.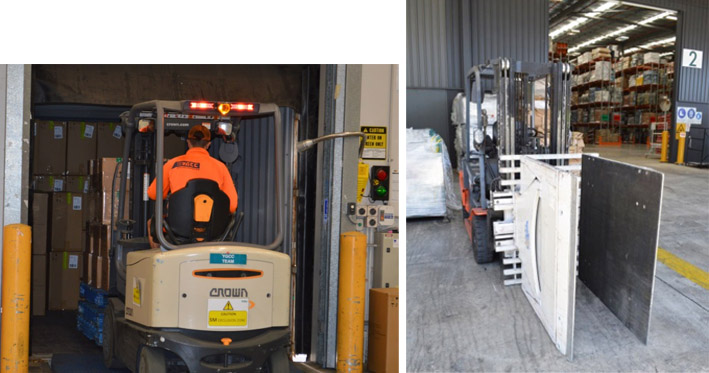 taking extra care when unpacking sheet material, such as glass sheet, panels, stone sheets, and composite slabs. You can do this by:

strapping items to an 'A' frame or to the side of the container. Securing each sheet using a separate strap means workers can only releaset he sheet that is being removed – one at a time
using mechanical aids to eliminate the need to manually handle goods
ensuring individual sheets are secured as you unpack
unpacking only in a designated area
ensuring the load is secured in its final destination.
Back to top