Electrical cable explosion during excavation
Electrical cable explosion during excavation (24 April 2020)
Two workers were seriously burned when an 11kV electrical cable exploded while they were excavating a pit in Eastern Creek. The workers were excavating near live electrical services cabling. Both workers were wearing flash-proof clothing that reduced the exposure to the blast.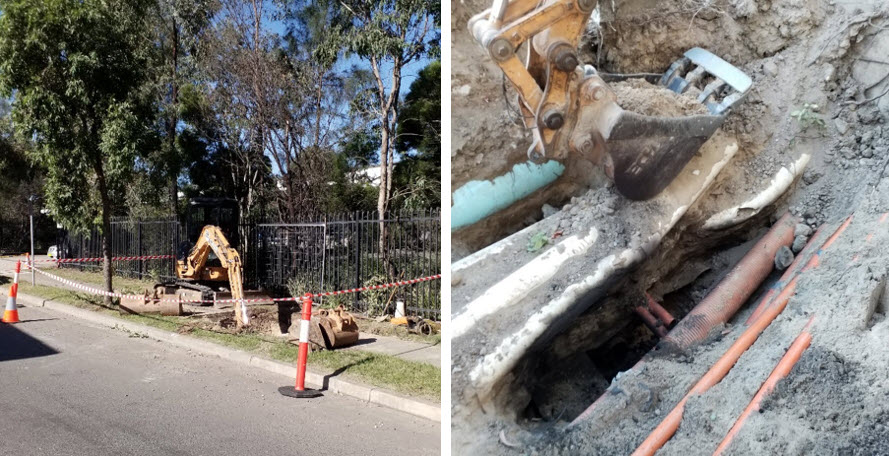 The site and excavation pit
The investigation
SafeWork NSW inspectors responded to the incident.
SafeWork NSW commenced an investigation to determine the cause and circumstances of the incident.
Safety information
You must eliminate or minimise electrical risks, so far as is reasonably practicable.
In NSW, it's prohibited to work on live electrical equipment unless one or more exceptions apply.
The code of practice for managing electrical risks in the workplace outlines when working live is permitted, and how to do it. Working de-energised eliminates significant electrical risks.
Before excavating:
get asset plans and information from registered utilities and asset owners, such as dial before you dig
ask the asset owner about specific conditions for any excavation work if you're working near cables at or above 132kV – if so, the asset owner must supervise your work
locate all underground electrical cables and, remember, inaccuracies can occur on plans:

look for signs of the services along the easement and ground
use an electronic cable locator or ground penetrating device
pothole using non-destructive methods, such as a vacuum

contact the asset owner if any doubts exist – never assume depth or alignment
develop safe systems of work and emergency procedures, and make sure all workers are trained
be aware that certain work can only be done by authorised service providers
communicate with all affected parties.
When excavating:
provide supervision, and spotters where required
install barriers around the work area to control risks to the public
wear the appropriate personal protective equipment
look for signs of services, including a change in soil type, cable bricks, locator tape or cable covers
don't use powered excavation (unless non-destructive) within:

300mm of low voltage electrical cables – up to 1000 volts (1kV)
600mm of electricity conductors from 11kV up to 33kV

contact the asset owner to discuss any excavation work near high voltage electricity cables – from1kV up to 33kV
only work within your designated authorised service provider qualifications.
On completion of the work:
communicate again with all affected parties
give asset plan updates and anomalies to the asset owner
review your risk control measures and systems of work to identify improvements
'Test for 'dead' before you touch', always.
More information
Back to top