Roll bars save lives
Quad bikes continue to be the biggest killer on Australian farms, with quad bike rollovers being the leading cause of death.
Since 2020, five families lost a loved one from quad bike rollovers in NSW alone. There have been more than 280 quad bike fatalities in Australia since 2001.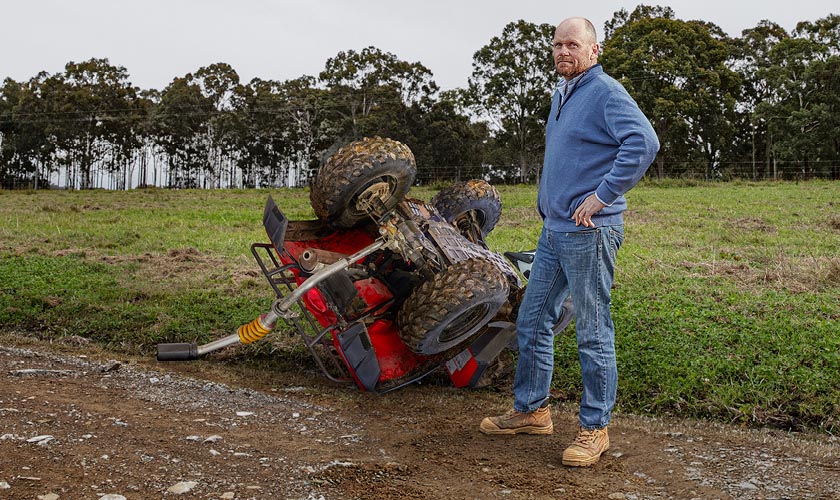 Ben's story
When I didn't have a roll bar and I rolled, I remember lying there with the pain of fractured ribs and the taste of blood in my mouth. It was one of my scariest days at work. I was in the middle of nowhere and my girls (wife and 3 daughters) didn't know where I was. That's why I installed roll bars on our quad bikes.

Farmer, husband, father
What is a roll bar and how can it help?
Roll bars, or operator protective devices, are designed to protect riders from being crushed or pinned underneath the weight of the quad bike in the event of a roll over.
Extensive testing* shows that roll bars can reduce serious asphyxiation and crush injuries by creating a void between the quad bike and the operator in the event of a roll over.
A roll bar and wearing a helmet can make the difference between a minor incident and a life-long injury – or even death.
Pre-fitted roll bars mandatory
To improve quad bike safety, the Australian government has introduced a new Quad bike safety standard. From 11 October 2021, all new and second-hand imported utility quad bikes must be sold with a pre-fitted roll bar.
Rebates up to $2000 available
SafeWork NSW is offering businesses the chance to apply for safety rebates. Businesses will be eligible to apply for a maximum of $2000 per ABN:
$2000 to buy a Side-by-Side Vehicle (SSV)
$600 for each roll bar (OPD), Quadbar Flexi or ATV Life Guard
$500 for one drone
$90 for each helmet
Workers will get a $90 rebate towards the purchase of a compliant helmet.
*In early 2016 SafeWork NSW engaged with the University of New South Wales Transport and Road Safety (UNSW TARS), who delivered world-leading research into quad bike safety in 2015, to undertake an independent survey study to determine the efficacy of OPDs as well as helmets compliant with NZS 8600:2002. (37 seconds)
Back to top